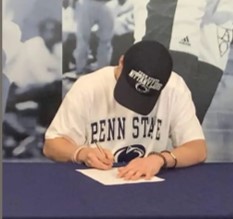 A huge congratulations to Patrick Mitchell who has a signed for College Baseball, with Penn State Greater Allegheny in Pittsburgh.  This is one of Penn State's regional campuses and they play in the USCAA Div 2.
This year Patrick has been doing his senior year (Leaving Cert year) in Andrews Osborne Academy just outside Cleveland, Ohio.  In their baseball season so far, he has given up just 1 earned run in 17.2 innings or work on the mound.  He also set a school record of 18K's in a 7-inning complete game outing.
"I'm proud of Patrick for being awarded this opportunity, earning it through his merits on the field, hard work, and dedication to his dreams and goals. Thanks to the help of Baseball Recruits 4 Europe and the many donors of Baseball Ireland, Patrick has taken a step further than anyone in Baseball Ireland's youth development not only for himself but for the next generation Baseball Ireland's young players, and I couldn't be happier to look forward to his journey ahead."
Frank Andrews from the Baseball Ireland Academy
Patrick grew up and learned his Baseball in Ashbourne, County Meath is the son of Sean Mitchell former senior coach and player with the Irish National Team.   This progress in the US is a testament to all the hard work and great coaching at Ashbourne Baseball Club.  It also paves the way for future Irish players to follow in Patrick's footsteps.
We'll bring you more on the Patrick's progress and development at college level in due course and in the meantime, we wish him the very best of luck from everyone at Baseball Ireland.